Bulova watches review | How Good Are Bulova Watches
Bulova is an American watchmaker owned by the Japanese Conglomerate Citizen watch group. 
The brand has a history of watchmaking and experience to back it up.
Bulova provides quality watches with accurate and even Ultra high-frequency movements at affordable prices.
How is Bulova these days?
Bulova has come a long way in watchmaking, especially since Citizen Watch Group bought it.
Bulova watches are highly precise. The movements may be in-house, Asian or Swiss, but the common ground is accuracy.
This accurate movement is the major selling point for Bulova watches, while its water resistance remains a huge headache for the brand.
The laughable water resistance of Bulova watches is a major concern for many watch collectors. Most Bulova watches are water resistant to 5m, 10m, 30m, and 50m. Even some of their field watches which generally should have a resistance of 100m, are rated way lower.
Notwithstanding, there are watches with good water-resistance ratings.
Overall, Bulova provides good watches. The prices are affordable, and the accuracy is unmatched. These three qualities have boosted the brand's popularity.
Overall, Bulova watches are good, Considering their Price point
Bulova watches are good, solid watches with incredible accuracy and they are affordable. 
The brand is a pioneer of many acts in the watch industry.
Bulova was the first watch brand to introduce a women-only watch line. It was also the first watch brand to place a radio advertisement and the first to introduce an electronic watch with a tuning fork.
A few years back, Bulova became the first watch brand to make a watch case out of 24K gold. Talk about record-setting!
Bulova watches aren't exactly luxury
Bulova is an accommodating watch brand because it offers luxury and non-luxury watches.
They offer watches of varying prices and quality, so it is up to you whether to want a luxury watch or not. From the price, you can tell if it is a luxury watch or not.
Bulova's Accutron and Precisionist models can be considered luxury watches.
Will a Bulova watch hold its value like other luxury watch brands?
Most Bulova watches do not hold their value or appreciate over time.
Only some of the Limited edition watches stand as exceptions.
A few of these limited edition watches have the potential to appreciate eventually.
Bulova watches can be ranked as an entry-level luxury
Bulova is considered an entry-level luxury watch brand.
The battle of whether or not Bulova makes luxury watches has been going on for a long time now. But, some specific models have been exceptional and have been gauged well enough to be labeled as entry-level watches.
Bulova watches are reasonably priced, and that's why people buy them 
Bulova watches are not expensive.
Bulova may not be exactly high-end, but they are not overpriced. The brand offers some good quality watches at certain price ranges.
Their average price range is around $300 to $700. It is within this range you would find most Bulova watches.
A few timepieces cost $1,000, and there are even some as high as $3,000 (The Bulova Chronograph A is a watch that costs $3000). 
Limited Edition Joseph Bulova watch costs up to $42,000 making it the most expensive Bulova watch on the market. 
Citizen handling the manufacturing of Bulova watches increases production capability and also affordability. 
You could pay three times as much for another brand and not receive the same degree of accuracy and quality, mainly if the watch contains Bulova's Precisionist movement.
How did it all start?
Bulova was founded in New York City. It was founded by a Bohemian immigrant named Joseph Bulova as J. Bulova Company in 1875. It was originally a jewelry store.
Joseph has experience as a goldsmith and watchmaker, and so in 1919, Bulova introduced the company's first complete line of men's wristwatches. 
But before then, the company had begun producing quality American-made pocket watches.
For years, Citizen supplied Bulova with movements before out-rightly buying the brand in 2008. The sale cost was 250 million dollars, and it remains one of the longest-running watch brands in the world.
Bulova's quality depends on what you compare it to
Quality-wise, Bulova watches can be placed above Fossil, Timex, fashion designer brands, and low-end Japanese watches.
Bulova watches are not high quality, but their watches are accurate and reasonably priced, and the quality is reasonable for its price range. 
Bulova are medium-quality watches.
Older models, however, are of better quality because it seems that the quality control of Bulova watches has decreased significantly in recent years.
What materials does Bulova use?
Bulova watches are made of materials like: 
Sapphire crystal
Stainless steel
Diamonds
Gold
Alligator leather
Titanium
Mineral crystal
Swarovski crystals
One or more of these materials can be found in any Bulova watch. 
For its price range, the quality of these materials is good, and they make durable and affordable watches.
Bulova's movements are accurate and reliable
Bulova uses its in-house movement, ETA, and Miyota movements in its watches. It uses Swiss and Japanese movements for its automatic watches and Hong Kong for quartz.
Watch collectors have scorned that some Bulova watches are run on Miyota movements. Its saving grace is that the Japanese movements employed by the brand are highly accurate.
For its ETA movements, the most frequently used is the 2892-A2 movement. This movement is very common among lower-end Swiss watches. The Accutron line is run on this movement.
Bulova created the Precisionist movement – a three-fork quartz movement. 
At the time of its launch, it was the most accurate movement in the industry. This high-accuracy quartz watch mimics the sweep hand movement of automatics but has a precision of 10-15 seconds per year.
The in-house movements utilize High Accuracy quartz and ultrahigh-frequency quartz and are simply Bulova offering superior timekeeping for an affordable price.
You won't pass a Bulova watch to your kid, but it will last long
Bulova watches are likely to last a long time if properly taken care of and maintained.
Materials such as stainless steel and sapphire crystal assure anti-corrosion and scratch resistance, respectively. The batteries have good life spans too. The average battery life of a Bulova watch is 2 to 3 years per power cell.
Bulova watches Aren't Swiss made, They are American made
Bulova is an American watch brand that produces and sells American-made watches.
They are not Swiss-made, even though the production of parts takes place in Biel, Switzerland. It takes more than producing watches in Switzerland for a watch to be labeled Swiss-made.
Is it a reputable watch brand?
Bulova has been recognized worldwide as a brand that accommodates budgets and provides accurate watches.
It can be agreed that Bulova has made some pretty good watches over the years. The major whistleblower on this brand was the Accutron series, which spread the brand's name like wildfire.
Who is it for?
In the most straightforward answer, Bulova watches are for men and women.
This category extends to different types of people and what they need in a watch. Bulova watches are for people who work in the water, on a race track, in a theater, and in any profession you can possibly think of.
Who wears Bulova watches?
Bulova watches have been spotted on the wrists of famous people such as; Elvis Presley, Paul Newman, David Scott (Apollo 15 Commander),  and even JFK.
Bulova Significant models
Bulova has many different models available. 
There are limited-edition watches, reimbursements for earlier watches, and conventional watches. There is always an option for anyone.
Here are a few of their models:
Bulova Hack Watch
The Bulova Hack watch is designed to be a field watch. 
They are compact, durable, and easy to read. The hack was designed in the World War 2 era and is military inspired.
It is a simple three-hand, automatic watch. It has a stainless steel case topped with doubled domed mineral crystal.
The watch uses a Miyota 82S0 movement.
The only downsides to Bulova Hack watch are the 30 m water resistance and the price. A proper field watch needs at least 100 meters of water resistance. And for the price of a Bulova Hack, you can get Seiko, Citizen, and Orient field watches with 100 meters of water resistance.
Accutron Series
Accutron is derived from two words, 'accurate' and 'electron' It was the first fully electronic watch in history.  
It uses a 360 Hz tuning fork instead of a balance wheel.
It is accurate to +/- 2 seconds per day, making it the most precise watch in the market at its launch. The Accutron series is made up of many models and make up the more expensive price list of Bulova watches.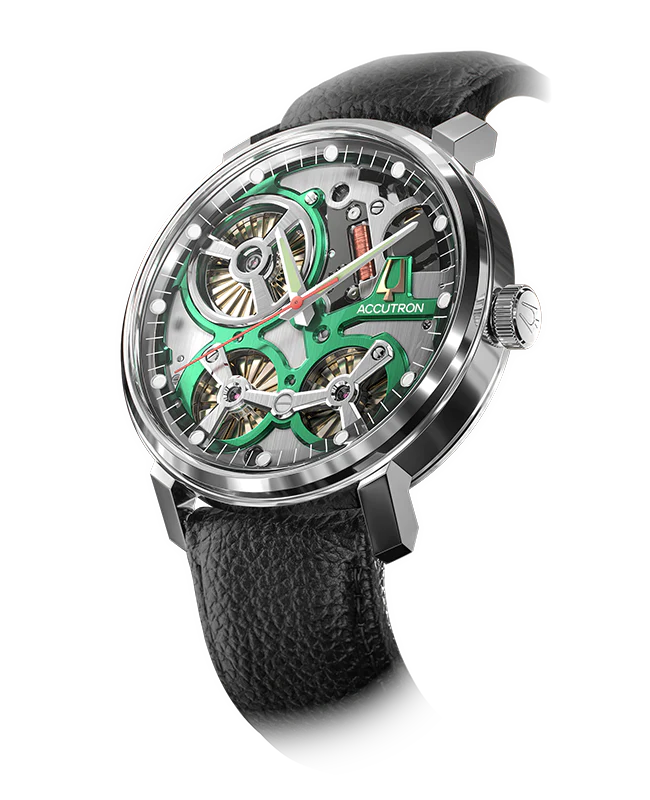 Bulova Chronograph A
Bulova Chronograph A is a professional dive watch with a racing-inspired look. 
It is a five-hand chronograph with pushers at the two and four o'clock positions.
It was initially released in the 1970s. They had an oval dial resembling surfboards. It features a stainless steel case and sapphire crystal and is labeled 200 meters water-resistant.
This chronograph doubles as a dive watch and a racing watch.
First Edition 24-Karat Gold Timepiece
Named Joseph Bulova's First Edition 24-Karat Gold Timepiece, this watch was recognized by WatchPro in 2014 as the most "Innovative Watch of the Year." 
It is a Swiss watch with a unique construction, apart from the striking gold it contains.
A unique feature of this watch is the integral case; the bezel, case, and case-back are anchored together with light and durable grade-5 titanium components.
Part of this integral case is the sub-bezel, which secures the watch and deflects shocks. The watch features a sapphire crystal with five layers of anti-reflective coating.
The strap combines two material layers: an alligator strap and a 316L stainless steel mesh bracelet incorporating three microns of black titanium carbide. The two layers are joined by grade-5 titanium rivets designed to slip within the mesh to maximize flexibility.
The watch contains a COSC-certified 26-jewel automatic movement.
So, are Bulova watches worth buying?
If precision and accuracy are your greatest requirements in a watch, then a Bulova watch is worth buying.
Bulova never disappoints in that aspect. 
Bulova makes average-quality, entry-level, and American-made watches that look quite good, are made out of quality materials, and have good craftsmanship.