G-Shock Watches Review | Is it worth buying a G-Shock?
G-shock stands for Gravitational Shock watch, and it is one of Casio`s bestselling watch lines. There are hardly any downsides to owning a G-shock watch as even owning an entry G-shock model will provide you with a wide range of benefits.
It is always worth buying a G-shock watch – you get so much watch for the price you are paying and although they are not luxury watches, they are still very no-nonsense watches.
Are G-shocks worth it?
All G-shock models of watches are built to last.
They can endure the harshest of weather and environmental conditions and are perfect for every form of outdoor and sport activity; these watches are the perfect companion for every sportsman and adventurer.
G-shock even holds the title of toughest watch according to the Guinness Book of World Records, particularly referring to the DW 5600 model. The watch was said to have been tested by being run over by a truck, yet survived without a scratch.
G-shocks may not be your ideal dress watch or fashion watch, but what they lack in beauty, they make up for in functionality.
If you are purchasing a watch that you could use without worrying about its safety, then a G-shock watch will be worth your money.
6 Reasons That Makes G-shock Watches Worth It
1. G-shocks are Tough and Rugged
G-shocks were built to be a `Triple 10` extension of Casio watches meaning that they were designed to be able to survive a 10m fall, have 10m of water resistance, and have 10-year battery life. 
But G-shocks exceeded the initial motive and are probably the hardest core technical watches ever made.
All G-shocks go through hard testing and have been tested in as many real-life scenarios as possible. 
The build and structure of these watches contribute greatly to their functionality. Most G-shocks are made from resin and this material is responsible for the water-resistant and shockproof nature of G-shock watches.
The extra material used in making these watches provides them with their robust and bulky design in a way that makes them extremely strong. They will take anything you can throw at them and this feature makes G-shocks worth buying.
The toughest G-shock watch is the award-winning DW5600E-1V, which has been recognized worldwide as the toughest watch, and the Casio G-SHOCK Master of G Mudmaster GGB100-1A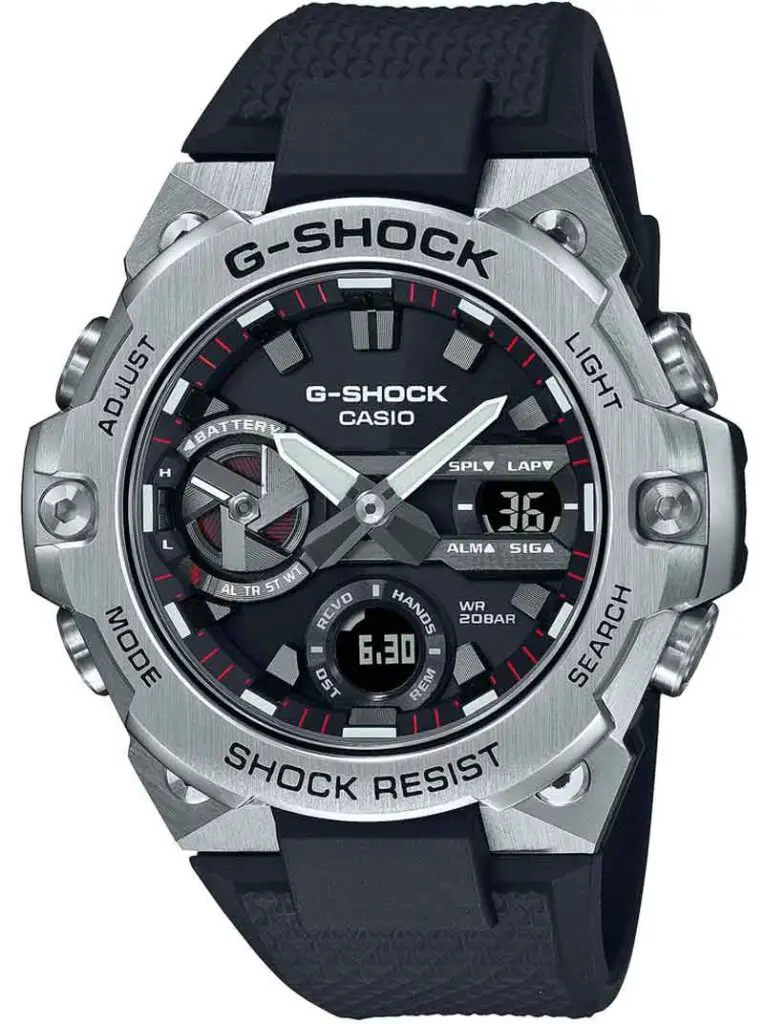 2. G-shocks are Affordable 
When talking about price per value, g shocks are not that expensive and they are high quality watches, at least for every amount you pay for a G-shock watch, you are guaranteed to receive far more value.
G-shock watches come in different sizes, shapes, models, designs, and technicalities and each different watch have its price range attached. 
Basic digital G-Shock watches cost from $40 to $80, while midrange models with more features cost from $80 to $200, but overall, G-Shock's price range stretches from $40 to $9000.
The most expensive G-shock watch is the Yellow and Gold Illuminator while the cheapest G-shock watch is the DW9052 model.
3. G-shocks are Very Durable
G-shock watches are extremely durable and can last for many years. 
The resin casing and the presence of quartz movement are both recipes for a long-lasting watch.
Many G-shocks are rumored to last more than 15 years, and still tell the time as though they were brand new. 
Another plus to owning a G-shock watch is the peace of mind that comes with them. Some G-shocks outlive their owners and survive accidents their owners couldn`t. 
Although very sad, this is proof of the durability of G-shock watches.
The ten-year battery life guarantee assures the user of a hassle-free watch use in which maintenance and servicing are not necessary for the first ten years. 
The 10m survival feature also helps to absorb trauma to the watch, making it as enjoyable for the owner as necessary.
G-shocks are made to be abused in every way possible and live to tell the story on another day. 
If durability is not reason enough for an outdoor enthusiast to consider a G-shock watch, then I don't know what is.
4. G-Shocks are multi-functional
You can do many activities with a G-shock, for example, you can go scuba diving, embark on survival quests, and explore camping, and different water and snow sports without worrying about the welfare of your watch. 
Adventurous people are able to use G-shock watches to kill multiple birds with one stone.
Not many watches offer this form of multi-functionality and this is a major selling point of G-shock watches. 
G-shocks are water-resistant up to 200M ( 660 ft.) making them perfect for scuba diving and snorkeling, yet still shockproof and tough to handle the travails of battlegrounds and withstand the terrors of the jungle.
At the prices these watches are sold for, this multi-functionality is a big flex and is very much appreciated by G-shock watch owners because it cancels out the need to have a watch for every occasion, making a G-shock watch worth the purchase.
5. G-shock has advanced models
Even with their traditional-looking watches, G-shocks have adapted to accommodate some of the latest watch technologies and features, including solar models, meaning you don't need to change the battery. 
A lot of G-shocks also have a solar function, allowing them to self-charge the battery, which is a smart feature as G-shocks spend a lot of time outdoors and under sunlight. Most of these models feature luminescence paints on their dials and make telling time while in the dark very easy.
Some models have the Multiband 6 function as well. This allows the watch to connect to the atomic clock and update the time and make sure it is even more accurate than the normal version 
6. G-shocks are very accurate
G-shocks are mostly digital watches that feature quartz movements. Quartz watches are the most accurate type of watches when it comes to timekeeping, placing them ahead of a lot of mechanical and automatic watch brands.
Officially, G-shocks are recorded to have an accuracy of +/- 15 seconds per month but a lot of watch owners have discovered their G-shocks to be more accurate than this.
How much does a G-shock watch cost?
G-shocks have been nick-named to deliver more value than you pay for and this is true considering the price tags attached to them. 
Based on the wide range of options available, there are different price ranges for each model. 
And just like every other watch line, the price of a watch also depends on the part of the world it is being sold in and whatever store is selling them.
But based on widely compiled and arranged data, G-shocks have been found to cost within the range of $80 – $9000. This is of course, exempting other additional costs such as maintenance and shipping fees.
Who wears G-shock watches?
As amazing as G-shock watches are, they are not designed to cater to the needs of every watch owner. 
G-shock is not for everyone – you need to decide what you are looking for in a watch first before purchasing one. 
If you are looking for a dress watch, a formal watch or a sexy watch, G-shocks are not the watch for that purpose.
Not everyone should buy a G-Shock. They are not subtle, smart or luxurious in any way. 
They are ruthlessly utilitarian and some models can be downright bulky and not what you could consider wearable in a formal or corporate setting.
G-shocks are very appreciated among military personnel, law enforcement officers, adventurers, scuba divers, rock climbers, and even children. 
The build quality of G-shocks allows it to cope very well on fields, underwater, on playgrounds, and on high altitudes.
The accident-proof nature of G-shock watches makes them the perfect first choice of parents for their children. 
As G-shocks come in different sizes and models, it is easy to find a watch that will suit a child and survive whatever hazardous activities children participate in. 
The flexible prices also make it easier to move on from a watch after it has been condemned due to severe abuse which children are very likely to inflict on it. 
Examples of G-shock models
G-shock provides its customers with a wide range of models. They have over 373 variants of models, all with their individual and outstanding features and scattered across a collection of price ranges.
With the mouthwatering number of G-shock models available to pick from, making a choice is an overwhelming exercise, But here are some of Casio`s bestselling models to help streamline the process.
· g-shock x rubik's ga2100
A fine line between the DW5000 and the AW500's conceptual designs, the G-shock X Rubik's GA2100 is one of the modernized and technologically advanced G-shock models.
The first GA-2100 watch was introduced in 2019, expanding the possibilities of toughness and analog style. 
It was an introduction to the new standard of making watches and presented a slim appearance, turning over the perception that G-shock watches had to always be massive.
· casio g-shock triple sensor pathfinder watch
This model has a water resistance rating of up to 100M (330 ft.). 
It features a solar powered battery with approximately seven months life span (operation period with normal use without exposure to light after charge), 25 months on rechargeable battery (operation period when stored in total darkness with the power save function on after full charge) when fully charged.
It is equipped with a triple sensor – Digital Compass, Altimeter, Barometer & Thermometer, records World Time across 31 Time Zones (48 Cities) and Daylight Saving on/off.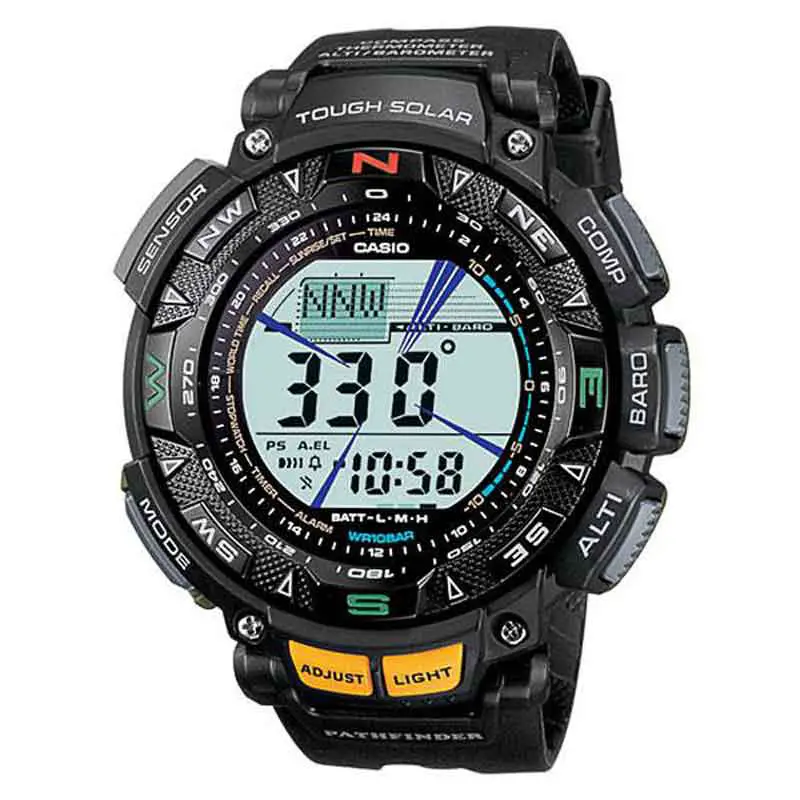 · Casio G-Shock G-Ms Women's Watch MSGS500-7A G-shocks
This women's watch comes with a simple, yet luxurious design which is suitable to freestyle between work and leisure.
The base design has flat bezel and bar indices that create a simple, masculine finish. 
Additionally, use of a sporty resin band makes it perfect for adult casual wear. 
The watch is also accompanied by a thin case, shock resistant, equipped with 3 hands, a date display, a solar charging system, and a 10 ATM water resistant function.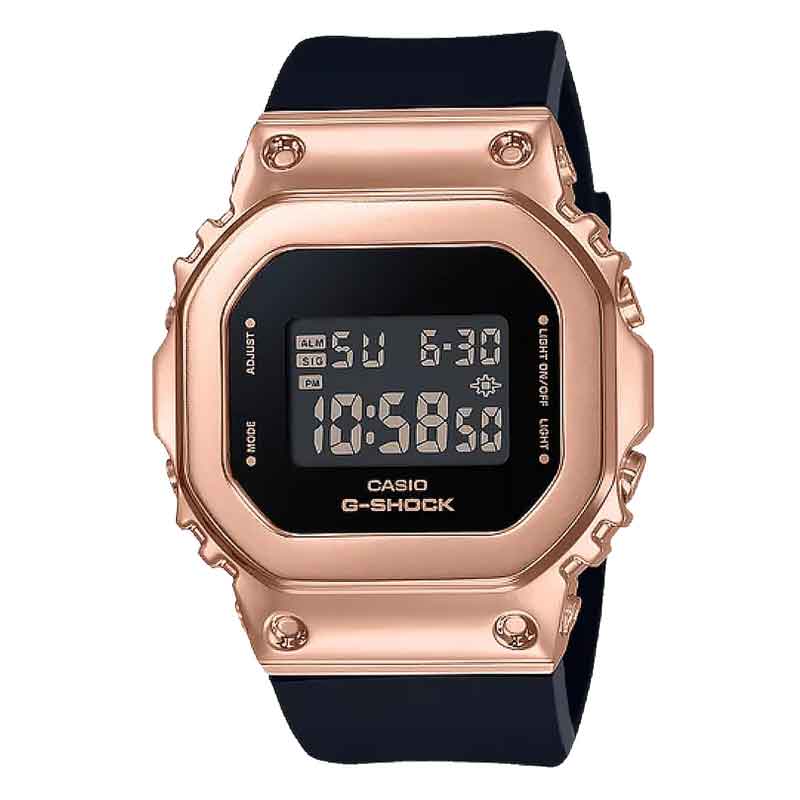 What do G-shock owners say about the watch?
There is no better way to know more about a product than to hear from those who have possessed such products for a while and are open to share their experiences with others. 
Most G-shock users have nothing but positive things to say about the brand, such as
"G Shock watches stand out in the crowd with their unique design language. They are the most rugged feature packed watches in world." and "You can wear it in any weather and any situation and it will come out working." G-shock watches are also incredibly low maintenance.
The only few complaints about G-shock watches had to do with the fact that the lume did not last for so long, and the watches were usually too chunky for people with small wrists. 
Asides that, G-shocks have made a tremendous impact on the populace.
Conclusion
G-shocks are classic watches and remain very cool to own but all these great features will be of no use to a person buying a watch to attend cocktails and black tie events.
G-shocks offer many advantages, but will only be worth it to people who know what they want in a watch, and for a ruthless watch brand like Casio G-shock, every watch owner must be interested in the great outdoors in order to truly enjoy the impact of such a watch.