How to Afford an Omega Watch
Omega is a premium luxury Swiss watchmaking brand that manufactures watches with some of the best value and craftsmanship.
The brand has appeared in many James Bond films, been used for many Olympic Games, and has been the watch of choice of NASA for over half a century.
But these watches come at prices that seem expensive to many that are not living the luxury lifestyle. It is easy to afford an Omega watch as long as you know the proper steps to take.
How Much is an Average Omega Watch?
There are different models and categories of Omega watches, all having different prices. To know which Omega watch you can afford, you have to know the lowest and highest prices of the watches.
An Omega watch can cost as much as $60,000 and as low as $2000.
The average price of an Omega watch is somewhere between $5,200 – $7,200.
The cost of Omega watches depends mainly on the movements, production duration, the quality of materials used, precious metals, and if it is part of a limited edition collection.
Omega watches are luxury items worth the prices stores sell to buyers. They tend to retain their value, and some models potentially increase in value over time, making them suitable investments.
How Can One Afford an Omega Watch?
There are many avenues through which anyone can buy their first Omega watch. Owning a premium watch is a great deal for many people, and here are a few steps to afford one:
Rearrange your priorities, reduce expenses and save money for your Omega watch
The unique designs, precious materials, intricate movements, and other complications make Omega watches expensive, but a dedicated savings plan could get you one quickly. 
Saving is significant because Luxury watches are not a good item for impulse spending.
Saving towards your Omega watch is a slow but effective process. It may take months and even years to save enough to afford an Omega watch, but in the end, the wait is worth it.
Re-arrangement of priority is a big first step to owning an Omega watch.
You can not willingly save in the direction of something, not on your priority list. But, your want for an Omega watch should not displace your basic needs from the top of your priority.
It would be best to put a savings plan before placing a savings target. The goal should include the watch you are saving towards, the selling price from your desired store, your monthly income, the amount of money intended to save, and how long you are saving.
Take, for instance, a school teacher who earns $3,900 each month and intends on buying an Omega Seamaster as a gift for his nephew who just got into college. 
This watch costs $7,500 from the Omega retail store in Atlanta, where they reside. The teacher realized that only $500 could be saved for the wristwatch each month after taking care of necessary expenses.
 This deduction means it would take only a year and a half to save for a Seamaster. There would be a lot of expense cutting and avoiding unnecessary spending to speed up this waiting process.
Therefore control expenses, reduce your bills in whatever way you can, and you will have enough money to afford a brand new or preowned Omega watch in a few months or years, depending on your saving.
Get a preowned omega watch
Pre-owned/vintage stores offer Omega models in different models with varying ages, movements, prices, and complications.
Pre-owned watches are a great second choice for buyers looking forward to getting their Omega watch as soon as possible. 
Not only are they an affordable option, but they also present the opportunity to skip the waitlist for a new Omega watch.
Like most luxury watches, Omega watches are hand-made. This information implies an extended production timeline and, therefore, a long waitlist. As long as the watch is in good condition (with all parts complete), it is entirely okay to buy a pre-owned Omega watch.
Pre-owned watches are usually sold for 30% off the Recommended Retail Price, making them more affordable to the average buyer. 
*Buyers should only make this purchase from authentic vintage dealers who provide official watch papers.
Getting an extra one-year-gig
Not everyone needs to save for a long time to buy an Omega watch. Some jobs can cover the expense of an Omega watch in just a year.
If you are willing to put some work to afford you an Omega, you can most definitely get a gig online or offline for a year or so and save enough money for a brand new or preowned Omega watch.
Adding a few hours a week can help you buy the Omega you want at no time. 
This may sound complicated, but there are actually many online gigs that don't require expertise and you can do.
Some people can afford a luxury omega watch after getting a bonus in their job
Rewards can also contribute to funds set aside for an Omega watch. Not all jobs provide bonuses to their employees, but the ones that do so do it well and sometimes pay vast amounts to compliment workers.
In case you have an option to get a bonus at your job, it can be directed into buying you an Omega watch.
Get one with interest-free finance
Financing a watch allows you to extend the payment over an established time frame. 
It helps you own your desired item right now and pay for it over a set period in manageable installments.
Every store which allows financing has its regulations. Some allow for 0% APR which covers a certain amount of time. This arrangement is called interest-free finance.
Interest-free finance means that there is no interest on the payments being made. This interest-free finance may cover for one year, 24 months, 30 months, or more, based on the agreement with the store. Most local Omega boutiques offer 1-year interest-free financing.
By getting a good finance deal on an Omega model you will be able to get your watch as soon as you want and pay for it in the coming year or so. This means you don't need to wait a long time to save money to afford the watch, but you can get it quite quickly.
*If you go on with financing, ensure your profession and source of income can handle watch financing. A person with an unstable source of income should not look into watch financing.
Try to get a bargain at a pawn shop
An Omega watch is a valuable watch to own. They have excellent craftsmanship, are made with great quality, and are owned by a brand that has stood firm for over a hundred years. This makes Omega watches assets that can be traded or used as collateral.
Pawn shops offer loans and financial aids in return for something valuable as collateral. They receive valuable assets like Rolex, Omega, or Patek Phillipe watches and on to them till the money given out is returned.
Often, these loans are not repaid, so the watches become the store's property. The watches are sold to interested buyers at well-fixed prices. 
It is more affordable to purchase an Omega watch from a pawn shop because the watches were bought at a lesser price than RRP and therefore cheaper than buying from other stores. 
The cost of an Omega watch is highly negotiable in a pawn shop.
It is favorable to get in touch with pawnbrokers before stopping by to find out if they have the exact watch models you are seeking to buy.
You can also sell your Omega watch to a pawn store for quick cash. Your Omega watch can fetch you a reasonable sum of money (although not anywhere near the amount you bought), especially if it is in good working condition. 
These watches would be resold to customers who can only afford to buy a pre-owned Omega watch.
What is the cheapest Omega Watch Model you can Get?
Omega watches span a great spectrum of watch prices, from $2,000 to $ 60,000+. The high costs of some models scare some people interested in owning an Omega watch but do not have much. There are less expensive models such as
1. Omega De Ville Prestige
2. Omega Speedmaster Moonwatch Professional.
3. Omega Seamaster Aqua Terra Master Co-Axial.
4. Omega Seamaster Planet Ocean 600 M Master Chronometer.
But the most affordable Omega model you can get is Omega Constellation Co-Axial 35 mm.
This Omega model costs $2,722. It is run by an automatic movement, waterproof to 100M, and is a Unisex watch but popularly worn by men. The black dial and hands are luminescent and can be seen cheeky in dark areas.
It has a well-built chronometer with a sort themed case that is resistant to magnetic fields reaching 15,000 Gauss.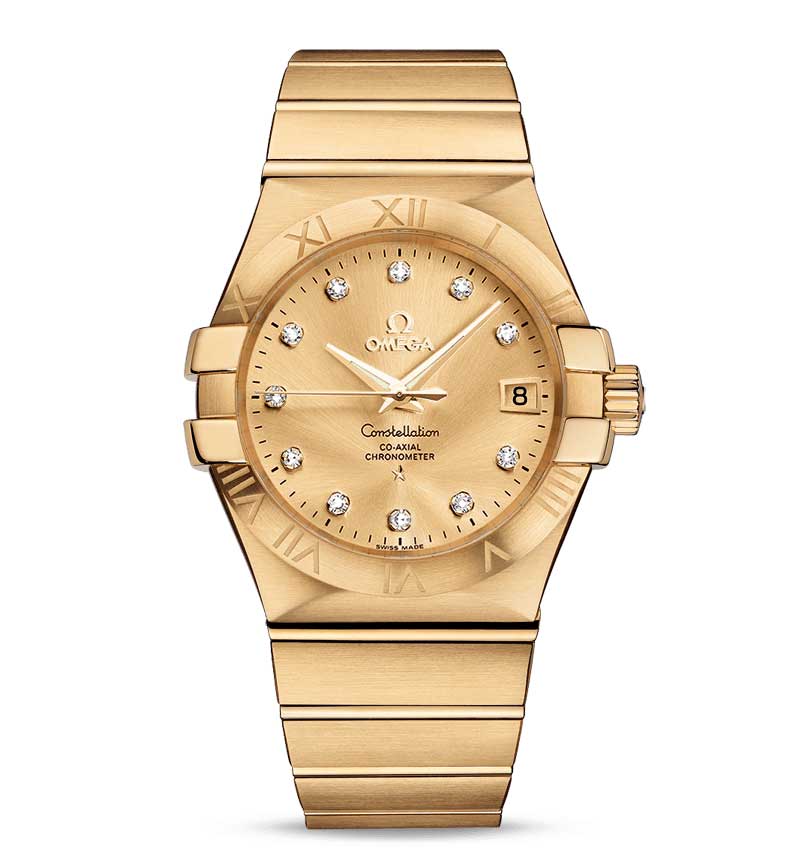 Conclusion
Affording an Omega sounds like something that only rich people can do, but with the right actions, many people can afford Omega or other luxury watches.
Omega watches have incredible craftsmanship and quality. The delicate designs and engineering helps the watch to retain its value over the years.
There are many models of Omega scattered to fit into any budget, so there is a watch for everyone interested in owning one. 
For pricier models, many measures are put in place to ensure that affording one is not rocket science, and with a bit of time, you too could own one.