Rado watches review | Is Rado A Good Watch?
Rado is a Swiss luxury watch brand with more than a century's experience and it is one of the leading brands behind introducing high-tech ceramic watches into the watch industry.
Rado may not be a well-known brand, but they pay much more attention to details with high-level craftsmanship and more quality than some famous brands. 
How is Rado these days?
The first appealing feature of Rado watches is the use of unique and high-technology materials. Some of the watches are made of high-tech ceramic treated with Plasma; the use of ceramics and even diamonds can be traced to its watches.
Some models are even coated with Superluminova.
Regarding durability, Rado offers scratch and water-resistant watches, built with materials that ensure long-lasting watches.
With Rado, you get appropriate value for the price you pay. And through a stretch of different prices, you are offered luxury without much trouble.
Rado is a brand that provides quality watches at affordable prices and with classy designs. 
They are also rare, as their production each year is limited.
Are Rado watches good?
Rado watches are well-made, high-quality, robust, and produced with innovative materials.
Rado makes good watches. They feature excellent movements, top-notch craftsmanship, and high-quality materials. 
Rado enhances the appeal of its watches with minimalist designs and the exciting use of innovative materials. 
The brand portrays fine Swiss craftsmanship through each watch and stays true to its heritage.
Rado watches Are entry-level luxury
Rado makes luxury watches.
Rado is an entry-level luxury watch brand as a whole although its higher-priced models are even more luxurious than the rest.
Rado watches are great for people just starting their watch collections and hoping to get stylish, durable, luxury watches.
It may not be a high-end luxury watchmaker, but for a mid-tier swiss luxury watch brand, they provide good value watches.
What is the Price range for Rado watches? 
Rado watches vary in price from one model to another. As an entry-level brand, it strives to produce watches that are as affordable as possible.
Unlike most luxury brands, you aren't paying heavily for the brand's name. With Rado, your money spent is for the materials and craftsmanship put into each watch.
The price range of Rado watches is usually between $700 and $5,000. However, most of their watches fall below $3000.
Rado only offers extravagant price tags if the materials used are expensive, so the more precious the materials in the watch, the higher its price. That is, watches built with diamonds will be far more costly than those with stainless steel.
Rado's short history
Rado was founded in 1917 by brothers Fritz, Ernst, and Werner Schlup under the name Schlup & Co. 
They started slowly, and by the end of World War II, the company was one of the world's largest and most respected watch movement makers.
In the 1950s, Schlup & Co. transitioned into the Rado brand. It released its first collection – Golden Horse – in 1957, then the Green Horse collection in 1958, and the DiaStar 1 in 1962.
Its influence in over 60 countries has continued till now. Rado has evolved from the small company that began in the Schlup family house and is now a part of the world's top Swiss watches.
Rado watches Are high quality
Rado watches are rich in quality. 
Not only through their craftsmanship but their materials and movements also.
Rado is a significant player in the luxury watch market on an international level.
Rado uses unique materials 
Rado is fond of exploring unique materials and pioneering innovations.
The watchmaker explores other options rather than settle for regular stainless steel and gold. These materials are what make Rado watches cool. 
Rado explores unique materials such as:
1. Wesselton Diamonds
Rado has deeply invested itself in technological research. With the aid of nanotechnology, Rado manufactures watches from highly natural diamonds.
Some Rado timepieces contain fine white Top Wesselton diamonds. These diamonds meet the Kimberley Process' requirements.
2. Ceramic
Rado forges watches with plasma-treated high-tech ceramic.
Ceramics are highly durable, lightweight, high-strength, and scratch-resistant. With Rado ceramic watches, the top of the dial is scratch-resistant, and the whole watch body is too.
The heating of the white ceramic to a temperature of about 20,000 degrees Celsius gives the ceramic a metallic shine without infusing any metal.
Ceramics are skin-safe, gentle, and comfortable for anyone who wears them.
3. Ceramos
Unlike pure ceramic, ceramos is made from a blend of metal and ceramic.
A beautiful thing about watches made with ceramos is that the ceramic maintains its lightweight properties, but the watch would have a metallic luster.
Ceramos easily adjusts to skin temperature, making Rado Ceramos watches very comfortable.
4. Sapphire crystal
All Rado watches are made with sapphire crystal. It is like the cherry on top of a sleek, scratch-resistant watch.
It is a unique material that guarantees the watch display has durability and transparency.
5. Hardmetal
Hardmetal is a composite of tungsten carbide and a stainless alloy.
Hardmetal is another material responsible for the anti-scratch feature of the Rado watches. It is very robust and even more durable than platinum, steel, and gold.
The secret behind the iconic Rado DiaStar 1 and its scratch resistance is the inclusion of hardmetal.
6. Gold
Rado watches are mostly gold-plated rather than steel-plated.
7. Hardened titanium
Hardened titanium is also featured in some models of Rado watches. They may be hardened but still retain their lightweight property.
8. Stainless steel
Stainless steel is a very durable watch material that is also anti-corrosive.
Rado's movement is accurate and reliable
Rado watches are made with either quartz movements or Swiss-made ETA automatic movements.
Rado designs Swiss timepieces with exceptional accuracy. With a renowned reputation in the watchmaking industry, Rado does not disappoint in providing accurate time to its customers.
Rado watch will last long
Asides from accuracy and innovation, durability is another strong suit of Rado Swiss watches. They can stand the test of time.
Naturally, the high-tech and exclusive materials used in manufacturing its watches are long-lasting and durable.
Materials such as hardmetal, ceramic, stainless steel, sapphire crystal, etc., present in the watches have two things in common – durability and comfort.
Rado has a good reputation in the watch industry
Rado watches make a limited quantity of  500,000 watches per annum; each year, every watch is sold out. Their watches are rare, which explains why collectors are crazy over them.
Rado watches are reputable and have received nothing but a show of love and acceptance from the watch community.
The watch brand has bagged several awards for using revolutionary materials in watchmaking over the years.
The Rado True Thinline Les Couleurs Le Corbusier collection was awarded the iF Design Award.
Who Rado is for
Rado watches are appreciated by people who value traditional Swiss craftsmanship smoothed into a fashionable timepiece.
Rado watches are not overly complicated. They offer watches with vintage designs to even those with futuristic and modern designs.
Rado's ambassador
Sir Andy Murray is one of the UK's best tennis stars and an ambassador for Rado watches. 
Fans have spotted him wearing several models, such as the Rado D-star 200 and the Hyperchrome self-winding chronograph.
Rado's models
Rado offers the world over 17 different watch collections. Here are a few of Rado's most popular and attractive pieces  
1. Rado Diastar 1
In 1962, the DiaStar 1 was launched, revolutionizing watchmaking by being the world's first scratch-resistant watch. The secret behind this was Rado's use of hard metal.
The dial is kept relatively simple and clean with a black background and pencil-style hands with a day and date window at 3 o'clock. 
It has a reinforced steel case and sapphire crystal. The watch is powered by a Swiss quartz movement and has 30m/100 feet of water resistance.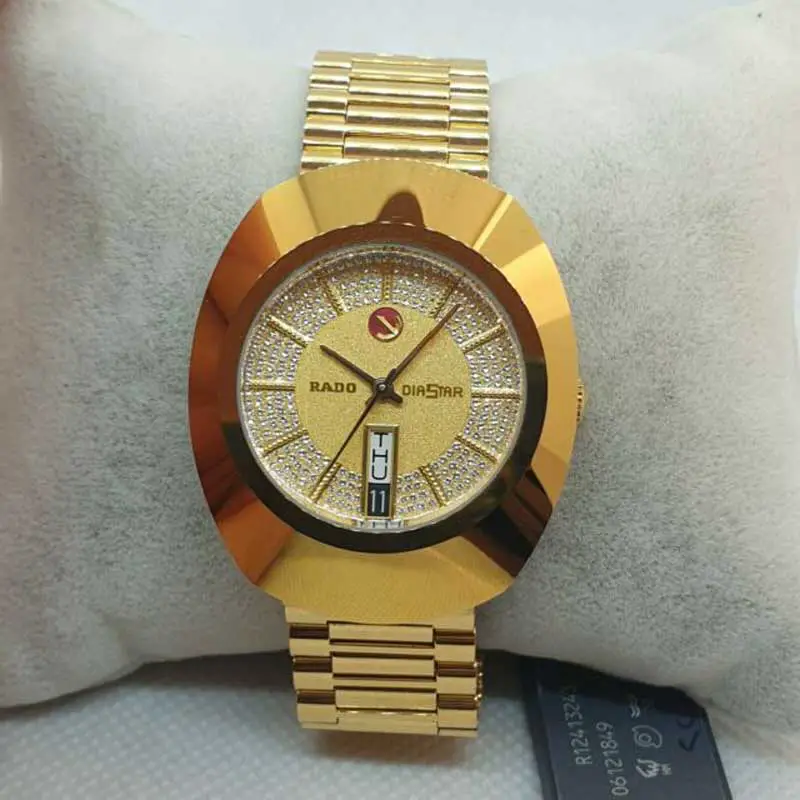 2. Captain Cook Automatic
The Captain Cook series was Rado's first attempt at dive watches. 
The original watch was launched in 1962, but these new Vintage-inspired dive watches stay true to their original look and feel.
It is an excellent dive watch but doubles excellently as an everyday watch. This watch's dial emphasizes functionality, with large markers and large watch hands filled with luminescence. 
It features a Swiss automatic movement with a power reserve of 80 hours. This is quite impressive for a watch that is not a top-tier luxury.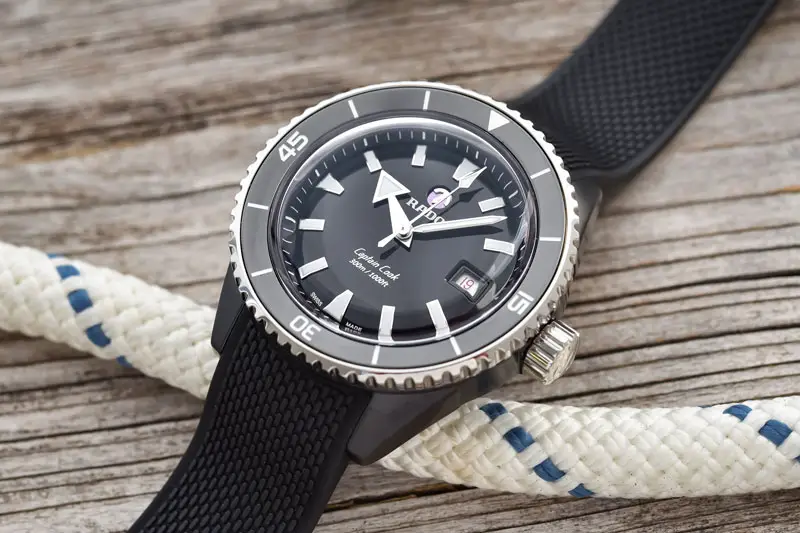 3. HyperChrome Chronograph
The Rado HyperChrome Chronograph is the ultimate tool watch and is ideal for people who want something sporty and bold yet classic. 
The HyperChrome chronograph is a brilliant everyday watch.
It has a monobloc construction and is hence, very durable. The watch has many green elements, such as the dial and bezel, which gives the watch a sporty look.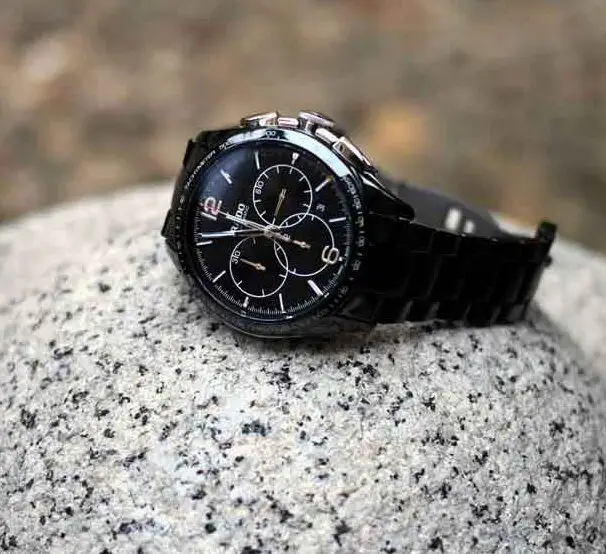 So, are Rado watches worth buying?
Rado watches may not be as well-known as some other luxury brands, but they have a lot of innovation and are certainly eye-catching.
You don't see a Rado watch every day, so when you come across one, buy it. They are worth the money. 
Aside from being rare, Rado watches are made with unique materials that will fit nicely into any collection.