Many ask how it's possible to afford a Rolex timepiece since those watches come with a high price tag.
Rolex SA is a Swiss watch designer and manufacturer that makes Hand-assembled and tested luxury watches. Rolex watches are highly sought after. 
Not just because of their great-looking designs, but also because of the craftsmanship and the high-quality materials that make up the watch.
Rolex watches are not the kind of watch you find on the wrists of just anyone. These watches are very expensive and naturally select their owners.
All The Ways You Can Afford A Rolex
Get a Rolex with finance
You can afford a Rolex watch with finance from various retailers online, or from many Authorized shops. 
Finance is basically taking the watch as a loan that you will have to cover in a certain time. 
Many retailers and shops will be happy to finance your brand new Rolex, and they will probably take a percentage of interest, mostly up to 5%.
However, there are some dealers who will finance a genuine, brand new Rolex with 0% interest, meaning you will need to pay them back only what the watch cost.
https://www.lendingtree.com/personal/rolex-financing/
Get a bargain at a pawn shop
The principles guiding the pawning of items are quite straightforward; something for something. Not all things can be paid for with money, and so pawn shops deal with value rather than price.
Many people will pawn their Rolex watch and won't come back to collect them. 
In this case, the watch belongs to the pawn shop, and in places like this, you can get a bargain price for a luxury Rolex watch.
You can also get a Rolex watch by dropping something that is equivalent value to the watch in its place. 
It could be another watch (or 2, depending on the value of each), a neckpiece or necklace, a diamond or gold ring, it could be a bunch of items whose collective value equals that of the Rolex watch or more.
To avoid being cheated of value, ensure the watch you are getting comes with its papers, to ensure that it is not fake or illegitimately acquired. A receipt of sale is also important. It serves as evidence in case of unforeseen circumstances.
Look for sales online
You can get a Rolex watch through a legitimate and trusted online store. 
Most Rolex watches sold online are preowned. Online stores also have many sales on old models or unpopular colors or designs. 
That means you can get a Rolex at an affordable price, without spending tens of thousands. 
Buying from an online store can go south quickly, so it is advisable to purchase your Rolex watch from a well-known store. It is important to ensure that the watch comes with its company-issued papers as proof that it wasn't stolen or is fake.
Through inheritance or an auction
Asides from rich eccentric billionaire relatives, you can get a Rolex watch as part of an estate or the properties of a dead owner. 
Some individuals pass away, and with no one to possess their possessions, these items are sold at auctions. 
This is a good way to afford a Rolex because there is a high chance of getting it at your preferred price since each item goes to the highest bidder. 
If possible, the watch papers should be given to you alongside the watch to prove it is genuine.
 Through a previous owner
Rolex watches are usually worth more on the second-hand market (due to demand) than they are when bought new, but not all Rolex watches increase in value and buying the pre-owned of such watches will cost you less than the market price.
Second-hand watches  that are not in good condition will cost less and are more affordable. 
An exemption to this is for owners that sell their watches to raise money for something else. Watches are cheaper than company prices in these scenarios.
 An authorized Rolex retail store
The most ideal place to get your Rolex is from an authorized retail store. 
This reduces the chances of being scammed because you are sure you are receiving a genuine watch. 
Rolex retail dealers are all mandated to have a physical store where customers can come and see what they are about to put their money into.
All Brand new Rolex watches come with documents and papers that contain vital information on the watch, such as when it was produced, the reference, etc.
What is the Average Income of the Rolex Owner?
Buying a Rolex is not something everyone is privileged to do. Owning one on the other hand is not a problem. A Rolex watch can be given as a gift or an inheritance and can hence make one a Rolex owner without spending a lot.
Rolex is ranked at the high end of luxury watches, and luxury goods are designed to be inaccessible to the general public. The good news, however, is that you do not necessarily have to be a millionaire or billionaire to purchase a Rolex watch.
The average income of a basic Rolex owner is $96000 -$120,000 a year ($8,000-$10,000 a month*). 
A basic Rolex owner is one who owns one or two very expensive Rolex watches. The people who have Rolex collections earn far more than that monthly.
How much money should you save to buy a Rolex? 
Saving saves lives, literally and figuratively. How much you should save to buy a Rolex depends majorly on the watch you want to purchase. 
A person saving to buy a Rolex Daytona and a person saving towards an Oyster Perpetual do not set the same targets.
To own any Rolex watch, even the 'cheapest', you must have saved nothing less than $4500 – $ 6000.
As years go by, and as the value of Rolex watches increases, the price will too. So the minimum price you can get for any Rolex watch is $4500.
Determining the highest prices Rolex can be sold for is difficult. Some Rolex watches have been sold for millions before. 
For example, Auro Montanari's white Rolex Daytona which he purchased at $6 million during an auction.  This is the highest price a Rolex has ever been sold for to date.
Economic management is the key to affording a Rolex watch
Owning a Rolex watch is a lot of hard work, especially if your monthly source of income is less than $5000. It takes a lot of patience and information to afford a Rolex watch with this income.
Here are a few tips on what to do if you are dedicated to getting your Rolex watch:
Set your priorities right
The first step to owning your first Rolex watch is to Prioritize. If you want a Rolex so bad, there has to be a priority structure in place. 
This involves obtaining the most important things first, like food, water, clothing, shelter, and whatever is a priority to you. Owning a Rolex watch is a want, not a need.
If you don't have spare income, you'll need to prioritize your expenses in order to save some money a side so in a few months you'll be able to get a brand new Rolex.
Prioritizing is important because if your most important needs are not taken care of first, the Rolex watch would have to be sold off to make ends meet. 
This can be avoided point-blank by handling your "needs" before your "wants".
Cut down unnecessary expenses
Buying a Rolex watch is no small money, but small money can go a long way in helping you get one.
Once you are done with your priorities, control your expenses, and reduce wherever you can to save money to afford a new Rolex. The small change or leftover that comes from doing this contributes greatly to your getting a Rolex watch.
For example, if your normal weekly spending is $500, if you cut down unnecessary spending and use discount codes, your spending may reduce to $450 a week. That leaves $50 that could be put away towards getting a Rolex watch. 
Saving that amount for a year is equivalent to $2600
Set money aside
I'm not referring to your savings by this. As we've established, owning a Rolex watch is a want, not a need, and therefore should not be obtained through money kept aside for emergencies.
Set money aside, specifically towards owning a Rolex watch. For example, putting aside $100 each month, a total of $1200 is saved per annum. 
In 5 years, $6000 is saved and a Rolex explorer can be bought ( if that is what the buyer wants). The more expensive the desired watch is, it's either the amount kept aside is increased or the amount of years is.
Some people can afford a Rolex after a bonus on their job, some have to put money away every month or take on an extra gig (job) to be able to afford one Rolex watch.
How do you know you can afford a Rolex
A sure way to know if you can afford a Rolex is to take your savings or the money you've gathered, deduct the money for the watch, then note the amount of money that is left.
If the leftover money can cover your basic needs, that is; food, shelter, and transportation, then you can go ahead and buy your Rolex. 
But if the remaining money cannot cover basic needs, then you are not financially ready for a Rolex watch.
What are the cheapest Rolex watches you can get?
If you are very specific about the Rolex watch you want, this section may not be for you.
The prices of Rolex watches are dependent on different factors, but these 3 entry-level watches will get you a bit of the Rolex attention, and every bit of excellent craftsmanship in an excellent price;
1. Rolex Oyster Perpetual
The cheapest Rolex watch is the 36mm Oyster Perpetual. This watch is considered entry-level or most affordable for men's Rolex at the price range of $4000 to $5,500.
The Oyster Perpetual is a no-date stainless steel sports model with a Water-resistance of 100M. The Oyster Perpetual is available in a wide range of sizes from a dainty 26mm up to 39mm. 
The movement is accurate up to +/- 2 seconds per day and it has an hour/minute/second function. The watch's power reserve is strong enough to last 70 hours
Watch specifications
· Crystal Sapphire
· 904L Stainless Steel case material
· Self-winding Automatic movement
· 3230 Caliber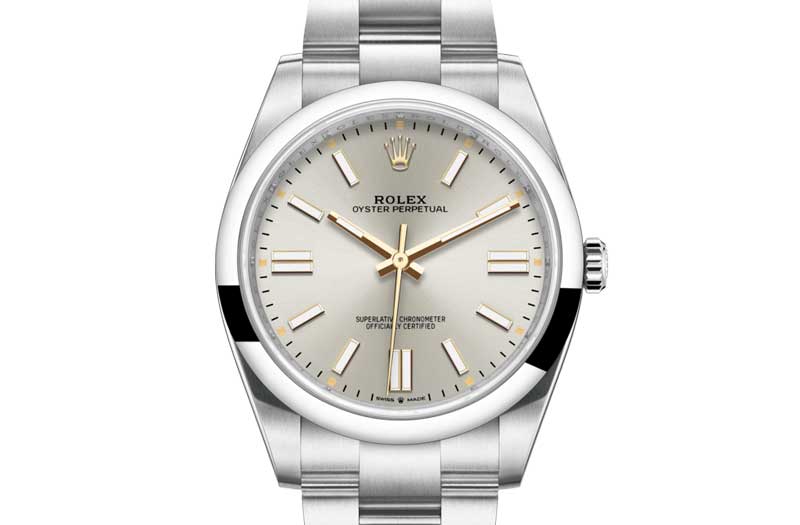 2. Rolex Air-King
Popularly known as "the Pilot's gift", Air-King is another good-looking entry-level Rolex watch. 
The price range for this watch falls comfortably between $4500-$6000.
The Air-King pays homage to Rolex's relationship with aviation. This watch is highly legible and has long-lasting blue luminescence which helps pilots in the dark cockpit
Watch Specification
· Chromalight display
· 3230 movement
· Oystersteel (904L steel) material for case and bracelet
· Crystal Sapphire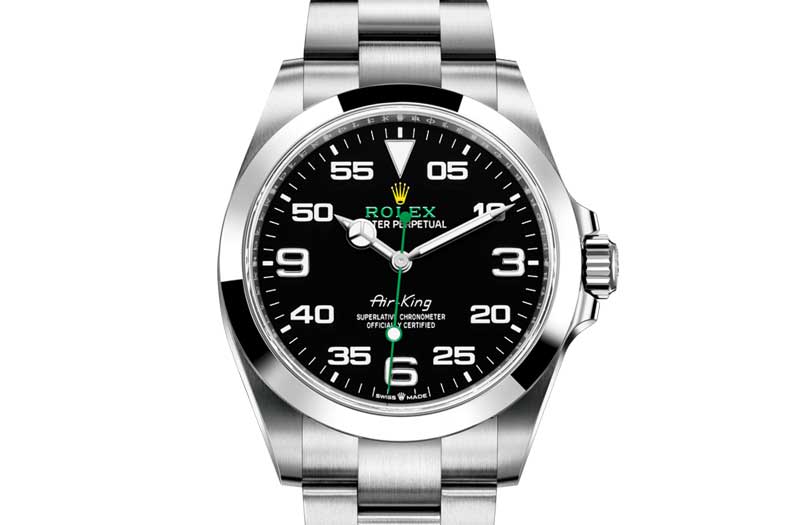 3. Rolex Explorer
Designed to be used in harsh conditions, the Rolex Explorer is tough, reliable, and highly legible. It is also an entry-level Rolex watch.
Watch specification
· 100M water-resistance
· Oystersteel bracelet and case material
· COSC chronometer-certified cal. 3000 movement
· Crystal Sapphire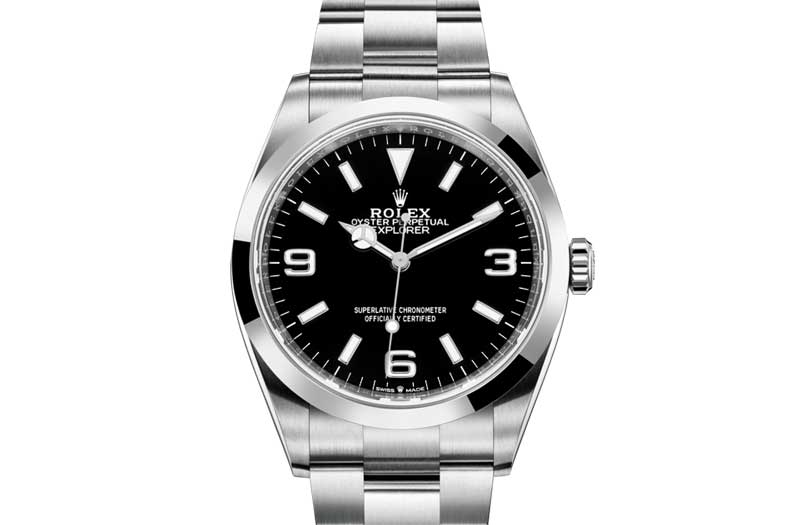 Conclusion
Buying a luxury watch is a delicate issue that most people are skeptical about, but with proper information, there is not much of a hassle around it.
Buying your Rolex watch from the right place will give you the satisfaction you deserve, but doing so chinks away at your wallet. 
A Rolex watch, however, is a good buy and is usually worth every penny spent.
With the right steps explained above, you could also afford a Rolex.