Are Casio Enticer Watches Good? | Collection Review
Casio has multiple ranges and lines such as Sheen, Edifice, and the most known, the G-Shock, and each is customized to satisfy the taste and needs of a selected group of people.
The Enticer collection is sturdy, great for everyday use, and provides great value for money. It is a pretty basic watch and does not have too many complications embedded in its dial.
In short: Casio Enticer watches are good watches.
Should you buy a Casio enticer?
Like any other Casio watch, it has remarkable features and technological advancements in its watch, but should you buy a Casio Enticer?
Casio Enticer watches are basic watches that tell time accurately and they can be worn almost anywhere.
Judging by its designs, one would assume that the enticer series is fit only for special events. But, Enticer watches are the type of watches that removes the need for you to alternate watches for every event because they can be worn on many different occasions.
Casio Enticer's features
The Enticer collection contains watches of unique designs that come with materials such as Stainless steel, leather, fabric, and even resin bands.
Each Enticer watch comes with a 50 M water resistance built into it. This means that the watch can survive splashes of water, a light downpour, and even a day at the pool.
The average timekeeping of a Casio Edifice watch is +/- 20 seconds per month.
The case of Enticer watches is covered with mineral glass for protection. This is not as strong as sapphire crystal but it does its job just fine.
There are multiple dial designs to choose from as well; starting from a simple dial, retrograde chronographs, three-hand formats, to multi-functions. 
In reality, the Casio Enticer also provides its customers with the option of somber and elegant shades, as well as vibrant colors with this collection.
Enticer watches provide Good quality at affordable prices
The quality of Enticer watches is often better than many fashion watches twice its price.
The entire idea behind the Casio Enticer for men and women is to provide 'Everyday Casual Living with Style and Elegance' without spending a fortune.
The Casio enticer analog watch range provides highly stylish and elegant timepieces for both men and women and it's best used when you don't want to take out your more expensive options but want the same style and quality they can provide.
The Enticer Looks Good for the day-to-day
Enticer watches have traditional looks. They go with your everyday look, they fit into a formal setting, and they are suitable for light gatherings like dinners.
The Casio Enticer series proves that looks can be deceptive. Casio's Enticer Watches are suitable for an everyday casual living while creating a stylish Statement.
Enticer features a wide range of Casio Analog watches, from sports to fashion line-ups, every kind of design is available in this series.
Enticer also seems to favor more traditional designs. You can wear these watches to formal meetings, the pool parlor, or even a casual hangout with friends. 
The Enticer series also includes models suited for banquets and sports events.
Casio Enticer Considered good among watch enthusiasts
Casio Enticer watches have good quality and are respected among watch enthusiasts.
It is one of the sub-brands from the popular brand Casio, whose watchmaking skills precede them.
Any watch from Casio is going to be a good watch, affordable and accurate. Casio is loved and respected by watch aficionados, so the Enticer series have no problem fitting in.
How many models does it have?
Casio MTP-VD01D-2EV Men's Enticer Stainless Steel Blue Dial Casual Analog Sporty Watch
The blue dial has a nice sparkle in it, which goes well with the highly polished silver case and bracelet's solid stainless steel construction. The mineral crystal protects against scratches, chipping, breaking, and shattering.
It has a sporty appeal and makes a good casual watch too. The Japanese quartz movement is accurate to +/- 20 seconds per month
It is nice looking, reliable, and strongly built. The watch has a large look but isn't heavy.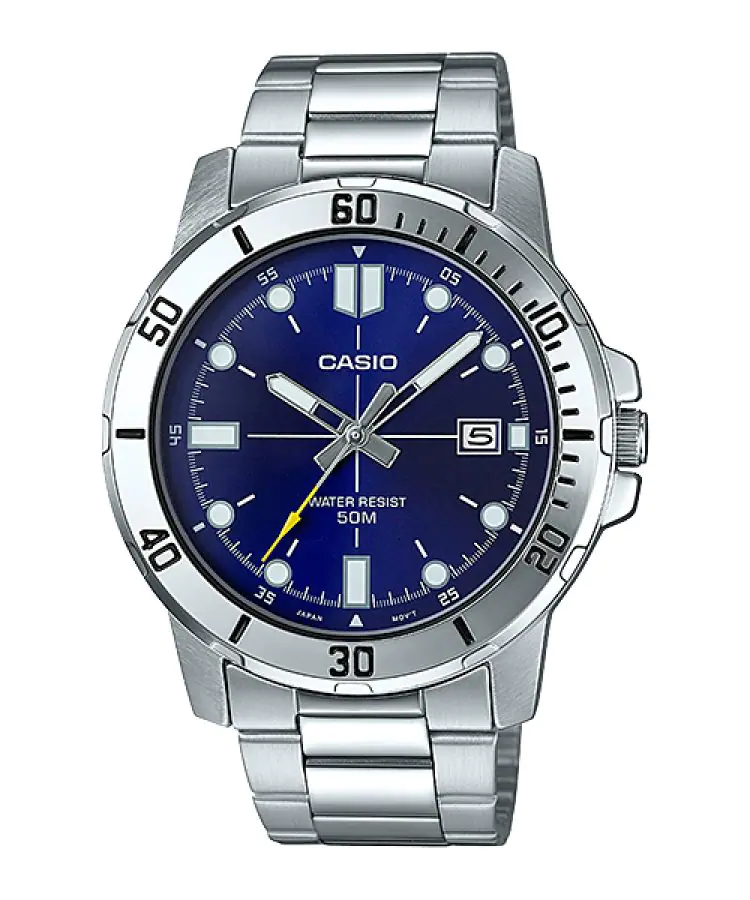 Casio Enticer Analog Black Dial Men's Watch – MTP-1192E-1ADF
It has a water resistance of 30 meters (100 feet). The brushed and sleek finish makes wiping off dust, dirt, mold, sweat, and other things from the stainless case easy.
It has a comfortable and bold design, good power reserve, smooth flexible leather band, and  Japanese quartz movement. The steel case and back are safeguarded by scratch-resistant crystal.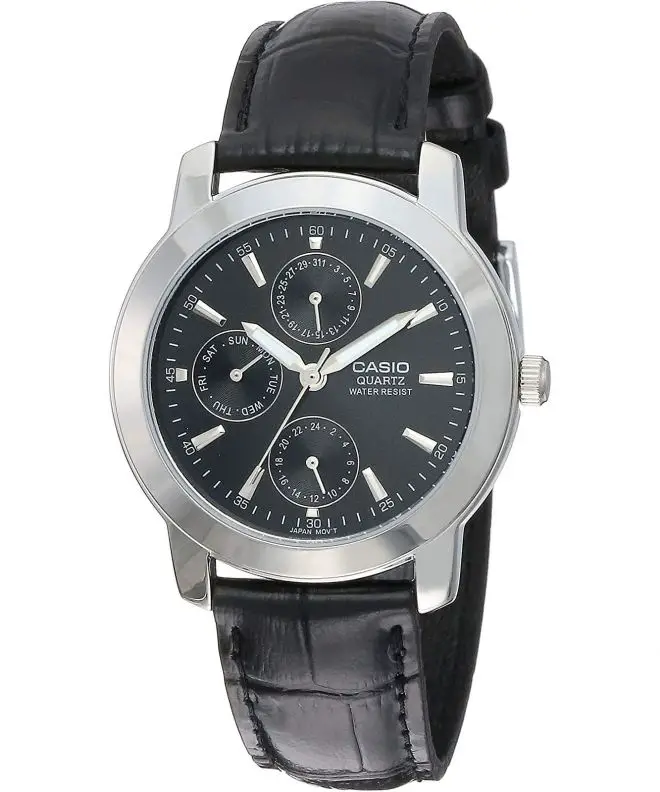 Casio MTP-1314SG-1AV Men's Enticer Gents (Black/Gold) Stainless Steel Analog Quartz Watch
This watch uses the Precise Japan Quartz Movement with an accuracy of +/-20 seconds per month. The dial has a date display and luminous hands with Silver Tone Markers.
It has a Stainless steel case protected by a mineral crystal, and the bracelet ends with a fold-over deployment Clasp.
Overall, the design is bold and elegant, it feels comfortable on the skin, and it is easy to wear and even easier to maintain.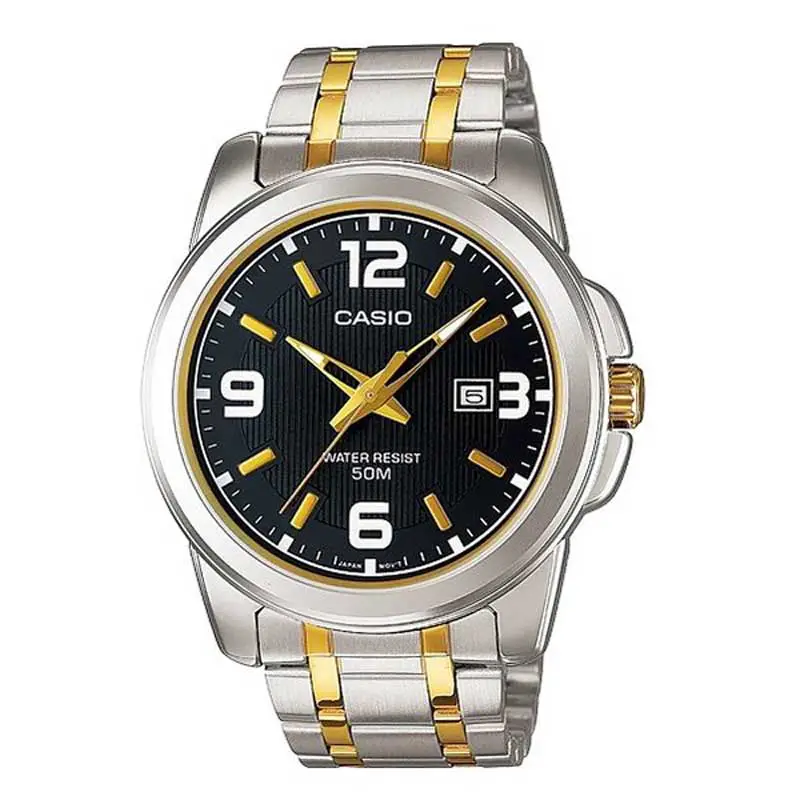 What is the difference between Enticer and Edifice?
There are three key differences between the Enticer and Edifice collections:
1. Enticer watches are designed to blend in with your everyday appearance while Edifice focuses on more special and reserved events. 
Entice watches were designed with the outdoors in mind while the Enticer is meant for elegant settings.
2. Enticer is primarily targeted toward the Asian market while Edifice is available worldwide.
Regardless of this, some stores like Amazon manage to still provide Enticer watches in countries like the USA.
3. Edifice comes with more features than Enticer.
 These features include;
Bluetooth smartphone connect
Automatic time adjustment
Tough Solar
Illuminators
You won't go wrong with either watch. Both watches perform excellently in the areas they have been designed for.
You can read all about the Edifice collection: Casio Edifice Review.
Conclusion
Whether the occasion is formal or casual, or you need something elegant or sporty, there is a perfect Enticer watch just for you.
It comes as no surprise that Casio Enticer watches are good. 
They may not be as prestigious as Swiss watches, but among Japanese watch brands, this watch is one of the best you can get.